Transportation systems used in modern cities are growing very fast. Some of the largest cities in the world, like Singapore and New York, show us the future where metro and trams are the norms. They are also more comfortable and easier to use than personal cars ‒ even more ecological.
In the not-too-distant future, transportation in cities will be fully automated, using sensors, applying safety components, and is fully integrated into the IT infrastructures of cities. Transportation automation platforms consist of IoT technologies and solutions, sensors, and analytical software systems. Between this hidden part of the technology iceberg and common passengers, there is the fastest growing layer ‒ mobile apps. These apps help us to navigate city transportation systems, plan complex routes and even purchase tickets. With the use of these apps, transportation is becoming truly digital and with each passing year, these apps are becoming more and more intelligent.
The official Hong Kong transport info app, HKeMobility, helps commuters plan their journeys and features information ranging from arrival times for buses and availability of parking spaces to the best routes for the visually impaired. The app is a combination of the Transport Department's existing mobile platforms, HKeTransport, HKeRouting, and eTraffic News. Real-time information about availability at nearly 220 parking lots – more than 10 percent of the total number of lots in Hong Kong – has been included. Walking routes covering all districts will be available within two or three years.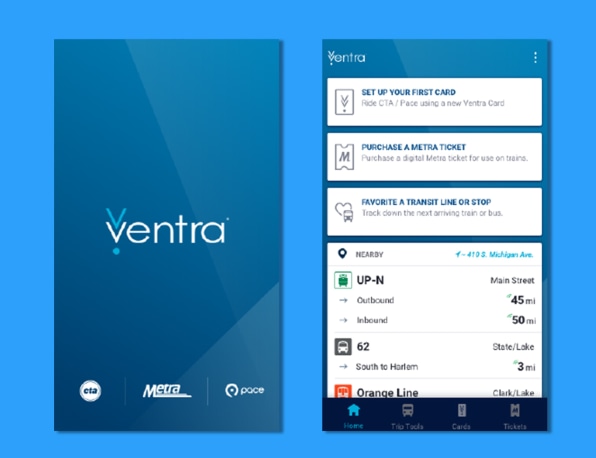 In the US, Cubic Transportation Systems, a company that's working with the Chicago Transit Authority, as well as Transport for London and the Metropolitan Transit Authority of New York, has developed an app. The app, which will roll out soon in Chicago–as well as Boston, Los Angeles, and New York City, provides users with a mobile version of every local transit operator's ticketing service. A passenger can enter their current location and immediately view a snapshot of all the available transit options that are within range. For local bus and subway systems, which often use swipe cards and turnstiles to collect payments, the app, named Cubic Mobile for Travelers, operates as a mobile ticketing kiosk. Users can purchase one-time transit passes or load their multi-use passes by saving their credit card info on the app or connecting with existing mobile payment options like Apple Pay.
In Mumbai, India, there is Ridlr, an app that was launched in 2013 to solve a significant problem for commuters – reducing the amount of time they spent waiting for public transport (buses), rather than on actual travel. In urban cities, buses are considered to be the most popular mode of transportation and this applies even more so to Mumbai. Approximately 170,000 buses operate in the public sector and carry about 70 million commuters every day.
Ridlr's parent company, Bird's eye systems, uses crowd-sourced data to provide real-time traffic updates. With Ridlr, users can receive real-time updates en route with traffic and incident alerts and can book an entire multi-transit trip (consisting of multiple commute options like Metro and BEST Bus tickets in Mumbai) prior to starting their commute. The mobile ticket is validated each time the commuter gets on the bus or metro and offers the ability to switch the mode of transport (from the bus to metro) while using the same ticket. Estimates by Ridlr indicate they are providing ticketing services to over 120,000 monthly commuters in Mumbai and providing real-time traffic information to more than 400,000 active users across Mumbai, Delhi, and Bangalore. Given Ridlr's strong position in the market, its ability to help foster the growth of mobile and IoT platforms in India is significant.
The mobile app called Chrono is now available to public transit users in the Montréal metropolitan area. Chrono streamlines journeys for its users by providing continuous real-time information that is updated every 10-15 seconds so customers can view the current location of transit vehicles and plan their trips accordingly. Customers can also track the position of Société de transport de Laval (STL)'s buses if their devices are connected to a wireless network (like Wi-Fi, 3G, or 4G).
Citymapper has been adding a multitude of transport options to its popular city transit app over the past few weeks, with dock-less bikes and motorized scooters now appearing globally. In 2011, Citymapper quickly gained popularity in London for its easy-to-use interface that consolidates multiple transport options to find transit users the best route from A to B. Since that time, the company has raised around $50 million in funding and expanded globally to dozens of cities, including New York, Boston, San Francisco, and Tokyo. Citymapper has also been experimenting with establishing its own transport services, by introducing a commercial bus service and taxi-sharing service.
Mobility-as-a-service businesses are thriving globally and companies such as Uber and China-based DiDi Chuxing Inc. are now expanding their services to include bike sharing and public-transit payments. While all-inclusive transportation apps aren't widely available globally, Whim users in Helsinki, Finland use a single app and make a single payment when they book rides and use public transit to get between any two places.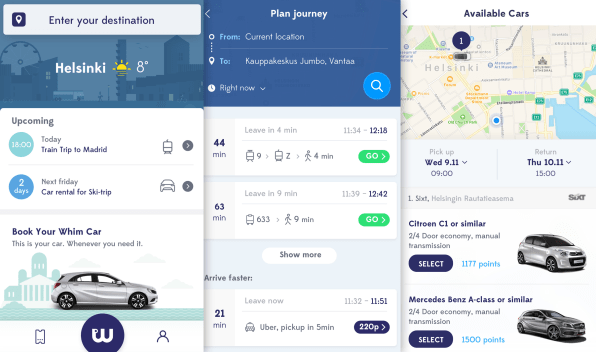 Within the first six months after the app launched, Whim quickly grew to more than 45,000 users in the Helsinki region, including about 5,100 users who pay monthly fees. The app has two subscription packages: an all-inclusive option for 499 euros ($582.65), and a second choice for a more modest cost of 49 euros that gets users unlimited bus travel and short city bike rides, as well as cheaper taxis and rental cars. Users who want to try before they buy, can access a pay-per-ride option.