Businesses such as Tesla, Netflix, and Amazon deservedly call themselves, "digital" as they employ a significant number of digital services in their business models. But under the umbrella of "digitalization", the Internet of Things, blockchain, automation, and a host of other technologies, (which are all great tech taken separately), growing a company now is less about the evolutionary development of classic business models. Today's digital transformation revolutionizes the initial approach to building a business, taking into account the context of "digital erosion" and an uncertain economic environment. We'll also take a look at how these last two factors can affect many businesses that are simply evolving without a future plan for growth.
In our previous article on digital marketing, we highlighted some significant issues with classical marketing and suggested rethinking some of the outdated concepts embedded in it. Today's digital marketing is replacing some of these outdated strategies, with data-driven analytics of the consumers' digital experience; and this paradigm must correspond to any updated business model, let's call it a digitalization business model.
Defining the ideas of "Digital transformation"
Since the concept of "digitalization" is relatively fresh and full of ambiguities and discrepancies, let's take a closer look at some of the underlying ideas discussed here.
Digital erosion might not be always noticeable at first glance, but it's significant in its possible consequences. One of which is a redistribution of the existing market, which occurs due to the use of innovative, often inexpensive, direct digital hookup technologies which are attractive to clients for engagement and retention.
Digital transformation means the process of changing the business model of an enterprise where strategic and tactical business decisions are made on the basis of interconnected data analytics such as, "customer – product – production". The responsiveness of the digital model to the decisions made is achieved through the virtualization of core assets and informed employee engagement.
Let's also define the goals of "digital transformation":
To satisfy stakeholders interests in an effective and transparent business that is protected from losses caused by "digital erosion", and is ideally capable of rapid growth using the deep analytics of customer digital traces.
Provide management with information for making decisions on the strategy and tactics of business development in accordance with the texture changing (needs and competitive threats) of the market.
Implement a "digitalization" business model that supports the demand (monetization) of products and services portfolio (PSP), effectively identifies client needs, and timely converts them into the competitive (extended) PSP or partner ecosystem.
In wrapping up our definitions, we agree with McKinsey & Co. experts who believe that the following factors are key to the success of any digital transformation:
Clear goals
Investing in talent
Realistic time and budget
Accepting flexibility
Empowering the employees
How to begin changing your business model
If you have decided on embarking on the path of painstaking work with your clients (implementing a Digital Experience Platform (DXP)), then your business model must change as well. When introducing digitalization to the external, public side you need to think about the fact that it will require internal changes as well, and assessing your overall business readiness. Understanding the reasoning behind the digitalization of the business model is the first step towards achieving the goal of not only surviving today, but becoming a next-generation organization.
An up-to-date business model incorporating a DXP is how today's companies create value for their customers and profit from it. It's one of the key elements of modern company management along with a clear mission and strategy. This contemporary business model ensures the success of strategy implementation and packages the company's processes for new tasks and outcomes. Knowing this, it becomes clear that the transformation of the business model is a strategic issue and must be approached thoroughly.
Acting proactively means not just thinking about transformation when you observe a systematic decline in turnover, market share, or margin, but much earlier in your stage of growth and shake-up. More often, external economic shocks push us to re-think our business model. These shocks change the market and consumers in a way we can't predict their behavior; and erases entire directions and niches from our usual market map. And at this moment it will be probably too late to react in the future, since any product, company, and industry has life cycles, and accordingly, it takes time for development and implementation.
Let's rely on the axiom that a business model is a tool that ensures successful strategy implementation by packaging a company's processes for new tasks and directions. If so, the first step towards digitizing a business is to develop a focused vision and strategy. This is important to clearly define the starting point (your current strategic position) and the point where the company should be.
If we accept that digital marketing in your foreseeable future will be a source of large amounts of data and serious analytics, then this data and analytics should be centrally governed, and the valuable results of the analytics should go somewhere for meaningful results. The business model should be tuned for fast, accurate, and proactive implementation of the data that's received from the analytical center of your digital transformation office.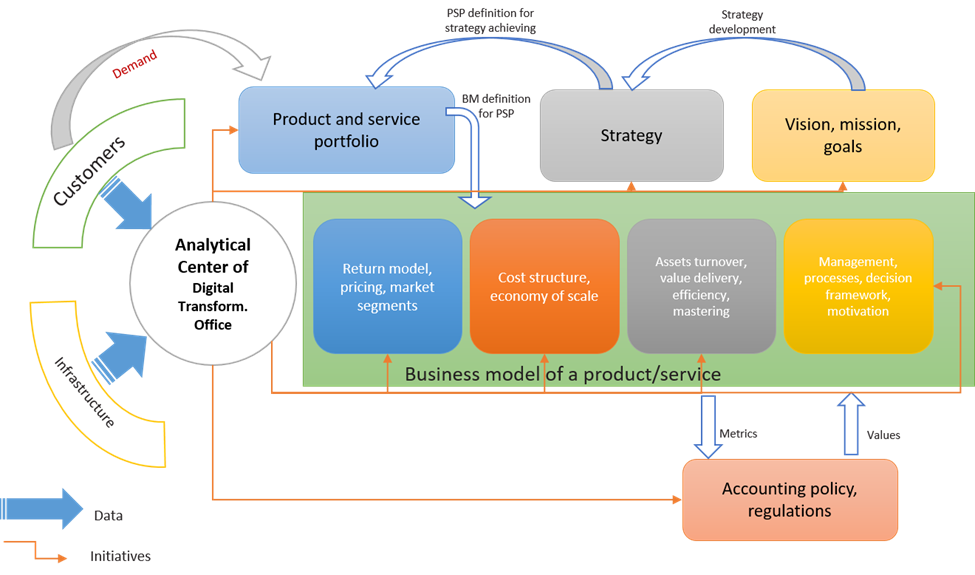 The flowchart above shows a business model configured for fast, accurate, and proactive implementation of data received from the analytics center. This way, we ensure at the "genetic level" of the model, the execution of the previously stated vision and strategy of digital transformation.
The way we understand the customer influences a company's strategy, vision, and allows for adjusting the mission accordingly. Therefore, systematized data about your customer and their reactions to our product and service portfolio (PSP) dynamically build up the basic parameters of your business. In this case, for example, a business strategy from a set of static ideas "moving from point A to point B" turns into a "vector" that responds to changes in market conditions. That kind of flexibility seriously changes your approach to strategic planning.
Earlier, we showed that the digitalization of marketing creates new requirements for products and services, and it becomes possible to offer the market "fast-living" PSP that will change in accordance with the client's intentions. If we are talking about hyper-personalization, we must be prepared for the fact that studying the client's behavior model should always yield results. The customer is loyal to the business as long as there are constant changes in the business. As soon as a business stops developing, the customer will lose interest in it.
How can this momentum be achieved and sustained? The business model might implement ideas from the Agile approach, which is to implement digital images of basic business processes and rebuild them based on input data, just like it is done in software development. The result is a new iteration of products and services. The next step in the development of a digital business model is to outsource more and more production resources, leaving behind only digital assets with intellectual property. This moves us towards lower capital investment in the business, and capitalization will be based on customers and our understanding of "what they want" and "where they are". Concurrently, we have a need to protect intellectual property both from the point of view of patenting the developed model and from the point of information security.
Looking ahead
Today's digital business model allows for the introduction of frequently discussed business concepts such as, "gamification". From our point of view, real gamification isn't "game elements" that facilitate the perception of a process, but a holistic and imperceptible (for the consumer) "game of life". This gamification becomes involving and motivating in relation to the everyday routine that a person encounters. We'll explain more about this fascinating concept in an upcoming article. Looking ahead, we'll say that if you're not looking at these ideas now, then it will be extremely difficult to transform your PSP in line with findings from a hyper-personalization project that opens the needs of your customers.