ChatGPT has recently taken the world by storm, revolutionizing the way we interact with AI. However, ChatGPT is not the only AI technology available on the market. In fact, there are countless AI tools designed specifically to meet the unique needs of businesses. Today, we'll be taking a closer look at 33 AI tools beyond ChatGPT. Whether you're looking to streamline your operations, improve customer experience, or boost productivity, there's an AI tool out there for you. So, without further ado, let's dive into the list and find the perfect AI solution for your business.
Podcast and Video Editing with AI
Cleanvoice is an AI tool that cleans up podcasts and audio recordings. Artificial Intelligence detects and removes filler sounds, clicking, lip smacking, and stuttering, and shortens silent pauses that last too long. The algorithm is able to work with multiple languages as well as accents.
Podcastle brings to you even more opportunities to work on podcasts. This tool is an all-in-one web-based platform with recording, AI-powered editing, and seamless exporting. With one click you can get unwanted silence and background noises removed from your recording. You can even create podcasts without recording yourself by putting written text-to-speech with AI-generated human voices.
Descript offers a new approach to video and podcast editing. The AI tool transcripts your recording into text and gives you the opportunity to edit video just like editing a word document or slide presentation. In addition, you can clean up your materials from filler words, transform lousy recordings into studio quality, and change your background in one click.
Voice Generators
Synthesia is one of the most highly-rated AI platforms. It gives you the opportunity to transform your written content into videos presented by a speaker. The platform offers 85+ AI avatars as actors and supports more than 120 languages.
Murf is an AI voice generator that takes your written text and gives it a studio-quality voiceover in minutes. Choose from 120+ different voices in 20+ languages, control tone, stress specific words, add pauses, and set up the speed at which your message is being delivered.
Transcription
AssemblyAI leverages powerful AI models to transcribe and understand speech. With its Audio Intelligence feature, you can summarize speech, identify entities mentioned in the recording, and detect sensitive content, such as hate speech, violence, sensitive social issues, and more.
Have you ever been torn during a meeting between listening and taking important notes? Forget about this problem with Otter.ai. This AI assistant creates real-time transcriptions during meetings while you can stay focused on the conversation.
Music Generators
BeatovenAI allows you to create unique royalty-free music compositions for your content. Fast and with no need for specific knowledge. Just choose a genre or style, select the mood from 16 options, and make some cuts to suit your video or podcast.
Soundraw is another AI tool to generate music. Choose genre, mood, and length and the AI will do the rest. Customize the song to fit your content's rhythm and stop worrying about copyright infringement.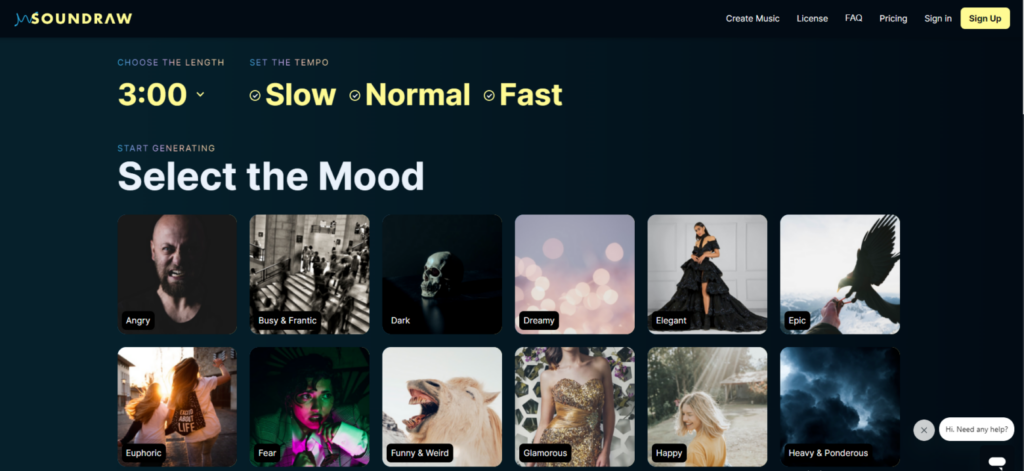 Other tools
If you're an e-commerce business trying to get beyond personalized text messages you should try Maverick. This AI-based tool applies personalization to your videos, allowing you to record once and send personalized videos at scale. Call your customers by name thanking them for purchasing, reminding them about abandoned carts or giving other useful information.
Vidyo.AI is an AI-based solution that enables you to repurpose your long video content for social media through the creation of short clips within minutes. Artificial intelligence automatically selects the best moments, edits them, and adds captions. More than 3000 podcasters and creators use the tool to make their videos viral.
Image Generation with AI
Illustroke creates vector illustrations from text prompts in seconds. You can change colors and choose styles for the generated pictures.
Similarly, the Patterned tool can generate unlimited unique patterns, customized only for your product and royalty-free. To create patterns you provide the algorithm with text prompts or choose an image from the gallery and give the AI instructions on how it should be changed.
Stock Images
StockAI is a massive collection of free-to-use stock photos 100% generated by Artificial Intelligence.
If you're looking for another AI image generation tool that is able to create stock photographs, book covers, posters, icons, and user interfaces for web and mobile – try Stockimg. As usual, you'll need to explain your idea through the text prompt, choose between a number of styles and in a short time, have your image done.
Branding
Flair helps you to create branded content in a few clicks with the power of AI image generation. You just need to upload your product photos and describe to the algorithm the scene you want around it. You can use your own prompts or use smart prompt recommendations.
Cleanup helps you to delete any unwanted objects, defects, or texts from your photographs with AI. Just highlight what should be deleted and see the magic happen.
Looka helps to create beautiful logos and brand designs in a few clicks. Type in the company name and slogan, choose the industry, colors, and icons, and tell the tool which references designs you like. Get your variations and customize the one you loved the most.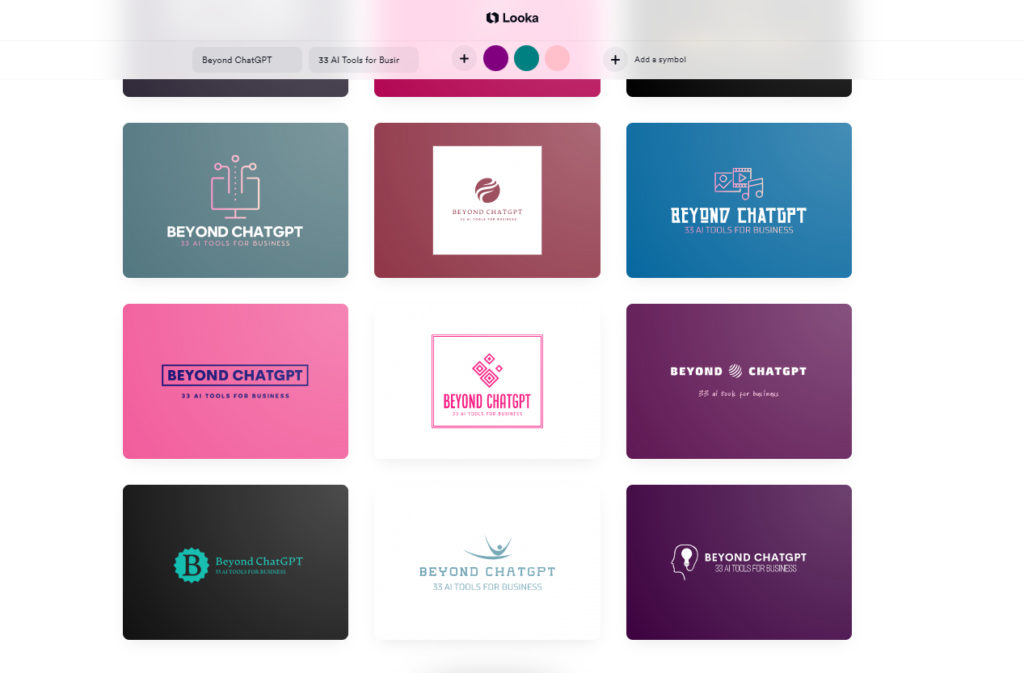 Text Generation With AI
CopyAI describe themselves as a text-generation AI tool that makes engaging and compelling content for social media, email campaigns, blog posts, digital ads, and more. Among its clients are Microsoft, Ogilvy, Nestle, and eBay.
With the power of AI Copywriting from Unbounce, you can instantly create content for anything – landing pages, ads, email, and even social media. And with AI Optimization, you can leverage algorithms to analyze visitor attributes and automatically route them to their best-match landing page.
INK and Thundercontent are also AI-based tools for content creation. Both solutions include SEO capabilities to help your content rank well on Google search, and they can create text that passes tests for plagiarism with accurate AI generation.
Lex Page is another AI writing assistant. Among its unique features is a small chat box that you can set up on your screen and get answers to your questions without switching tabs, googling, or spending time browsing websites.
Customer Service and Interaction
Pragma automates messaging workflow within a number of channels like Gmail, LinkedIn, slack, Hubspot, etc. AI algorithms help you to create messages and detect answers that you use repeatedly, suggesting adding them as quick snippets for further usage.
Quickchat uses the power of Artificial Intelligence and Machine Learning to create chatbots for customer service or other purposes. You can build your chat with needed adjustments without any specific knowledge, and give it information about your company while embedding it into your internal system, website, or app.
Do you work in a complex industry and your customers don't always understand what you're talking about? Puzzle is an AI tool that resolves this problem with the creation of a dynamic glossary based on your content in a few clicks. Widgets with the glossary can be embedded into your blog posts or documents.
Social Media
Ocoya is an all-in-one platform for social media marketing activities. You can create content with the help of AI and schedule it for the best time periods while getting insightful analytics.
Social Comments GPT is a Chrome extension created to help users generate engaging comments on social media. Powered by OpenAI's ChatGPT, the extension provides users with an automated way to create comments which can be personalized.
Other Tools
Looking for a new job via LinkedIn? Then Resumeworded is the tool just for you. It uses an AI-powered algorithm to instantly give you tailored feedback on your resume and LinkedIn profile. It is trusted by over 1 million job seekers and was developed with help of professional recruiters.
BrowseAI can extract specific data from any website into a spreadsheet that fills itself. With scheduled extractions, you can get notifications on changes and monitor the data being extracted. Train your robot in 2 minutes with no code, or look at the pre-built robots for the most common use cases.
CopyMonkey's AI algorithm generates keyword-optimized bullet points and descriptions specifically for Amazon. The tool helps place all of the important keywords in your Amazon listing to help get rankings organically on the first page.
Finta is a fundraising workflow automation tool. Finta AI uses available information from deals to connect the right investors to the right companies. It also utilizes AI to create personalized email campaigns to create meaningful investor relations.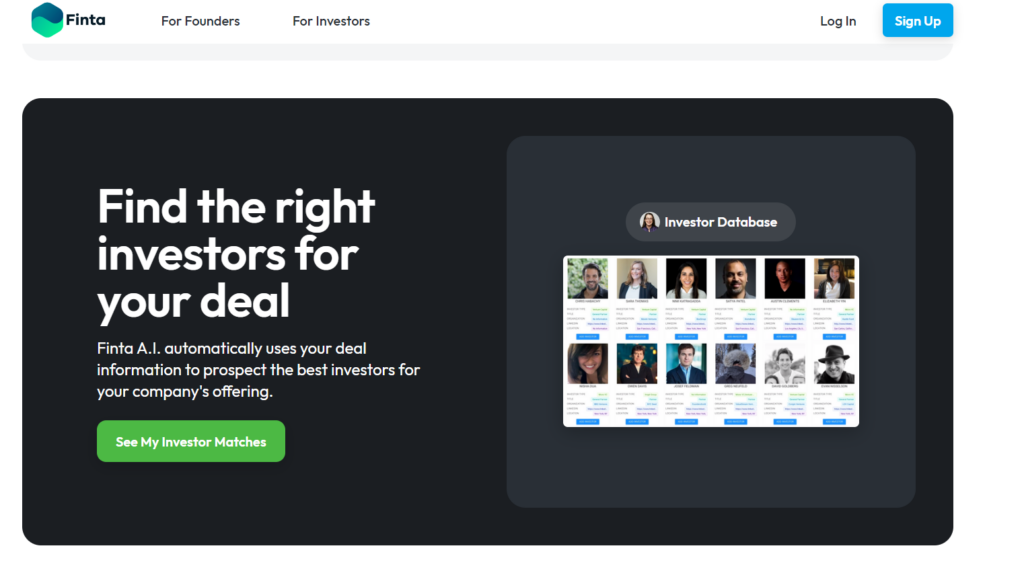 Do you still want more? Try the There's an AI for that database to find the AI tool that specifically fits your needs.
A New Look At Familiar Tools
Microsoft recently introduced Copilot. We'll put this in a separate category, as this is a notable branch of the development of digital solutions using Artificial Intelligence. The tools that we reviewed above are based on the current capabilities of AI. Microsoft's Copilot takes traditional and familiar solutions and rapidly expands their functionality through their take on Artificial Intelligence.
Microsoft Copilot combines some of the tasks that are presented above with separate tools. With the help of Copilot, Microsoft Word will be able to assist writers in content creation, in Microsoft Excel, users will be able to conduct data analytics and create data visualizations in a few seconds, and Microsoft PowerPoint will be able to independently prepare a presentation based on the Word or Excel documents provided by you. During a call in Teams, Copilot will prepare a transcript of the meeting or collect the key points, in Outlook it will summarize a long chain of letters, saving you time from reading unnecessary information.
With Copilot, we won't have to accumulate a collection of different AI tools for each task, and users will be able to continue using the familiar programs they have known since childhood, but at the same time enjoy all the possibilities of artificial intelligence. That's why the release of this AI assistant caused another massive surge of discussion online. This trend will likely continue and we'll see the introduction of AI in other traditional tools we're familiar with. Continue to watch this space…
What's next?
We've just covered 33 great AI tools but the truth is there are many more options out there. The field of AI is constantly evolving and growing, so it's always a good idea to stay informed and up-to-date with the latest developments.
First Line Software is at the forefront of the AI and ML revolution and has extensive experience developing custom solutions for our clients. If you're interested in exploring the benefits of AI & ML for your business, we're here to help. We'd love to discuss your unique needs and how we can help you take your business to the next level.