You often hear about new technologies that promise to help make your business "more efficient, profitable, and innovative." But how do you keep up with the never-ending amount of new solutions that come to the marketplace? How do you understand what suits your company and customer needs, and what does not? Today, we will explore headless CMSuse cases and when it makes sense for an organization to implement them… Grab yourself a cup of coffee and get ready to take a deep dive deeper into the world of headless content management systems!
What is a Headless CMS?
The hallmark of headless content management systems is their structure.
In headless CMS, the part of the platform where content is created, managed, and stored is separated from the part where the content is formatted, developed, and distributed. Thus, the backend (body) and frontend (head) exist as independent entities. The body and head communicate and work with each other using application programming interface technologies, also known as an API.
This divided structure allows a headless CMS to be extremely flexible, which is an important advantage for companies with diverse and complex content requirements.
To make it simple, headless CMS is where your marketing team will create, manage and store your content and digital assets. Then through an API, developers and designers can integrate various applications and programming languages to distribute the content from CMS across multiple digital platforms: dynamic web pages, mobile applications, chatbots, smartwatch apps, and others.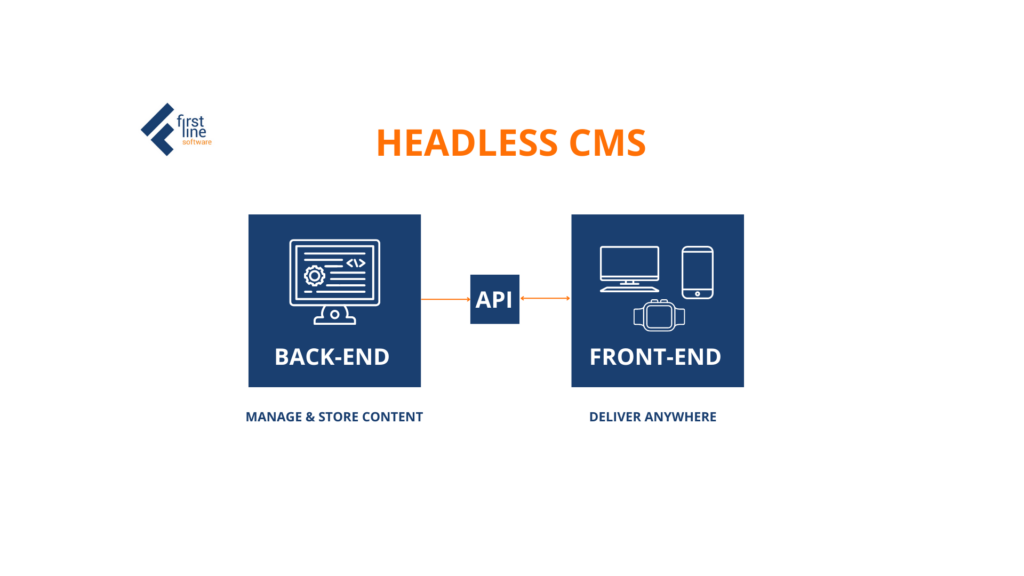 API and Integration
A Headless CMS is sometimes also referred to as an API-first CMS since the use of API technologies is a key feature of the platform. Some APIs deliver content to omnichannel digital experiences, while others establish connections between applications that help optimize content modules. This helps to create a highly personalized experience by combining data from different apps to incorporate valuable customer and/or product-specific details into the content.
The flexible framework of headless systems allows companies to easily integrate with various third-party tools and scale fast. You can develop various different customer touchpoints without having to recreate content each time, as well as integrate with different tools like CRM platforms, PIM software, ERP tools, marketing automation, and analytics programs to build content-driven experiences tailored for your customers.
Traditional CMS
In a traditional CMS, you can also create, manage, and publish content. The key difference is that traditional systems have a monolithic structure, where the backend and front end are tightly coupled in a single technical area. Content is not stored in modules. When it is published, it is in its final state, making it difficult to reformat or reuse. If you want to add new features or functionality to a traditional CMS, you will need to either use a plugin instead of integration or start customizing the system you're using. However, as you introduce more customizations, you may end up encountering problems with the CMS and its ability to support updates.
The monolithic platform prioritizes ease of use over flexibility. You're limited within the logic and opportunities of the chosen system but can use the majority of these tools without experienced technical help. This is a convenient choice for companies that need a simple website and do not have large development resources. Traditional CMSs rely on templates to display content, which can be difficult to edit and are not meant to be changed frequently. Customization can be done using plugins, which are more like a workaround than a true integration, as they require breaking the hard shell of the monolithic structure.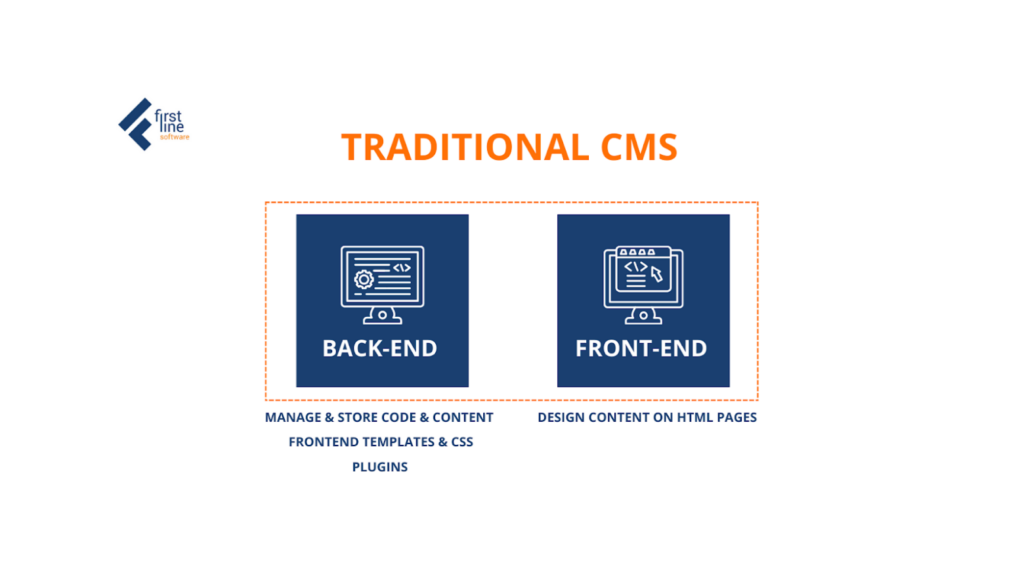 Benefits of Headless CMS:
Multi-channel support: Instead of separate content management systems for different digital channels, one platform can serve an unlimited number of digital channels, reducing complexity and costs.
Automatic optimization: With a headless CMS, a single source of content, such as a product description, can automatically adapt to the publishing environment and present itself optimally for its purpose, improving the user experience.
Simplified content editing: Separating code and content in a standalone CMS makes life easier for content editors. They can focus solely on the content they are responsible for, ignoring the code and increasing efficiency.
Flexibility for developers: Developers can use all the latest tools and platforms to bring content to life on any modern platform, and are not limited to a specific content management system. This flexibility encourages innovation and improves UX. According to research, 57% of developers and IT professionals prefer a headless CMS over a traditional CMS.
Simplify integration and distribution: Content delivered through an API is much easier to integrate, manipulate, and distribute, reducing the time it takes to create separate content-driven experiences such as websites and apps.
Better Performance: A Headless CMS often has faster loading times due to its lightweight nature and efficient data handling which improves the performance of a website or application.
Improved security: Since the front end is separated from the back end, headless CMSs provide increased security as there is less opportunity for hackers to exploit vulnerabilities.
When Should You Choose a Headless CMS?
You are already using multiple CMS platforms
By moving to a headless CMS, your marketing team will no longer need to recreate content across multiple instances. A headless CMS will be able to deliver the content you create across multiple channels at the same time—even to sub-brand and foreign language websites that you manually manage across platforms. If your business requires having lots of typical websites and it keeps growing, a headless CMS will let you scale freely and have one entry point to all of your content.
Your marketing strategy relies on omnichannel engagement
If multi-channel publishing is central to your marketing efforts, investing in a headless CMS will make your life much easier. The modular structure and integration capabilities of the headless CMS make it easy to create content once, run it through different services (CRM, translation, etc.) or workflows, and publish it to multiple channels at the same time.
Developers slow down marketing
A common problem with monolithic CMS is that only developers or tech-savvy people can work with them. If you need to get campaigns to market quickly, waiting days or weeks for a development team to help creatives with content placement and formatting can be challenging. With a headless CMS, your teams will be able to work autonomously and faster.
Your website is the central hub of your digital experience.
Whether you want to create an interactive digital experience, an intelligent e-commerce platform, or real-time content personalization, relying on monolithic CMSs with pre-designed templates and one-way content flow will not be enough. If you are looking to create an innovative, customer-facing experience on your website, then you need to use a flexible, composable, self-contained CMS. This approach allows you to deliver customized dynamic content across multiple digital channels, resulting in a more compelling and personalized user experience.
You need enterprise-grade security
When it comes to collecting and using consumer data to deliver personalized experiences, enterprise-level security is an absolute must. For international business in particular, the need to protect sensitive customer information is of paramount importance. Traditional CMSs, with their monolithic structure and plug-ins, present a larger surface for potential security breaches compared to headless CMSs.
You'd rather stay with a traditional CMS if…
Usability is your top priority
If you only plan to add content from time to time and want to do it quickly and easily, the traditional system will be the right choice. If you don't need any personalization, changing features, or functionality, a headless CMS might be more than you need.
Omnichannel digital experiences are not part of your business model
While some businesses need the added flexibility and integration that a headless CMS provides, not all small businesses need this level of functionality. For organizations that don't need complex, content-driven interaction across multiple channels, a traditional CMS may be more than sufficient. Also, if you don't have the resources or need for on-duty developers, a traditional CMS may be a more cost-effective solution.
Access to development support is limited
Not every organization can or wants to have technology specialists on staff. Traditional CMSs were meant for low-tech business users, so they work well for this case.
Ultimately, the decision to implement a headless CMS should fit your business goals and the specific needs of your organization. If the possibilities do not seem fruitful for your business, you should probably stick with a traditional option. But if you want to start building better customer interactions and streamline your content management processes, and you're being held back by a lack of technical resources, consider finding a technical partner. Technical partners can help you choose Headless CMS that would be the best fit for your organization, set up processes, migrate from your existing system to a new platform, and provide development for the new use cases headless opens up for you.
How are headless CMSs applied in different industries?
Headless CMS technology has proven its value in a wide range of industries. If you are still undecided whether you need to switch to such a system, take a look at these examples to understand how Headless CMS can be applied in your area:
E-commerce: Headless CMS solutions enable e-commerce businesses to easily manage product listings, descriptions, and prices across multiple sales channels, including desktop and mobile sites, social media, and online marketplaces.
Media and publications: Headless solutions are ideal for media and publishing companies, allowing them to easily publish content across multiple channels, such as websites, social networks, and mobile apps.
Healthcare: With Headless CMS, healthcare companies can securely manage and share patient data while maintaining HIPAA compliance.
Travel and hospitality: Travel and hospitality businesses can easily manage content related to hotels, flights, and other travel-related services across multiple channels through the implementation of headless CMS.
Education: For educational institutions, headless systems help manage content related to courses, schedules, and other academic information efficiently across multiple platforms.
What's next?
Hopefully, you were able to identify whether a Headless CMS could be of interest to your business. The next step is to select the right tool for your goals and objectives, and First Line can help you evaluate the various different technologies on the market.
If you want to learn more about this or get a comprehensive consultation on choosing and migrating to a Headless CMS – talk to us! The First Line Software team has extensive experience in working with various solutions and industries within content management. We follow the latest technologies and first of all, study their application to real business problems and the opportunities they can provide to our customers.