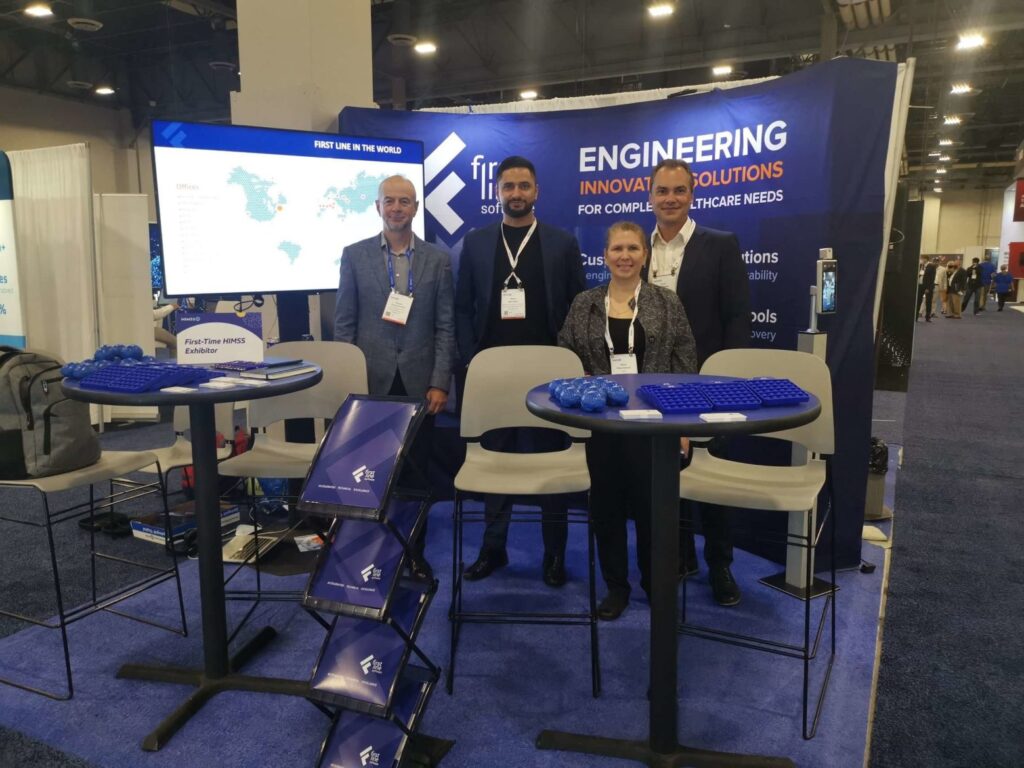 HIMSS (Healthcare Information and Management Systems Society) has not stopped innovating and exploring the boundaries of technology in healthcare since its inception 60 years ago. To gauge how provider and payer executives and patients feel about where healthcare is headed and their role in the new normal post-pandemic world, HIMSS gathered insights from over 3,000 stakeholders at its annual conference in Las Vegas in August.
During the conference, First Line Software's Head of Healthcare practice Anatoliy Postilnik and the team presented to healthcare authorities, institutes, and clinicians three main steps on how FLS innovates in telehealth and continues to move towards a post-pandemic, IT-healthcare world:
We create tailored solutions to extend your EHR and EMR systems, allowing you to maximize efficiency and effectiveness.
We provide advanced clinical research tools for innovative treatments and drug discovery. First Line Software partners with leading clinical organizations to create life-saving solutions.
We're developing Predictive Analysis, Artificial Intelligence, and Machine Learning tools to improve care efficiency, quality, and safety. Healthcare professionals are gaining unprecedented insights into diagnostics, care processes, treatment variability, and patient outcomes through the increased precision of learning algorithms and their interactions with larger sets of training data. First Line Software continues to leverage our world-class healthcare software and AI/ML engineers to create innovative solutions.
Our methodologies are tailored to address specific business processes and workflows for our clients which include healthcare institutions, pharmaceutical companies, and research organizations that share our expertise with participants.
A highlight of HIMSS was FLS' participation in the webinar, "Leveraging Cloud Computing to Create Australia's Leading Connected Care Ecosystem". Clinic to Cloud partnered with First Line Software to create Australia's most efficient, patient-centric connected care platform. It's our global case study as an all-in-one clinical and practices management platform; Clinic to Cloud creates optimized practice operations, improved financial performance, and delivers better patient experiences. Clinic to Cloud is utilized by more than 7,200 Medical professionals through 85,000+ consults each month while serving more than 3.6 million patients across Australia.
While healthcare technology has helped us move towards a post-pandemic world, COVID-19 has influenced nearly every aspect of modern care, from telehealth to a new focus on the hospital-at-home model.
According to HIMMS speakers' statements, seventy-one percent of clinicians say they will continue to use digital tools to some or a greater extent through the end of the pandemic and beyond. Eighty percent are interested in AI for clinical use cases and 76% said AI is not a threat to their job security.
Some top healthcare trends FLS are working on:
Tele-health
Remote patient monitoring
Behavioral health technology
Consumer-driven digital health
Community-centric innovations
First Line Software has been delivering value in Health IT by providing innovative business and technological solutions and augmenting client organizations with highly qualified engineering and business resources.
We're looking forward to seeing you next year at HIMSS22!