In today's fast-paced and interconnected business landscape, the significance of having an integrated Enterprise Resource Planning (ERP) system cannot be emphasized enough. An integrated ERP system serves as the backbone of modern business operations, seamlessly connecting various departments, functions, and processes into a unified platform. It also provides a centralized hub of information, enabling efficient communication, collaboration, and decision-making across the entire organization. The ability to access real-time data, automate workflows, and gain holistic insights into key business metrics has become paramount for companies aiming to achieve operational excellence, drive growth, and adapt to ever-evolving market dynamics.
The Client
Our client struggled with a lack of real-time visibility, data silos, and manual processes, causing them to recognize their need for an ERP solution that seamlessly integrated all of its business units. With locations in eight different countries and more than 400 team members across the world, implementing an ERP system would enable the client to break down data silos and unlock a unified view of the entire organization, regardless of where different departments and business units were located.
Our Approach
Our team conducted a detailed analysis of the client's existing processes, identifying areas for improvement and automation. Our client needed to optimize its business operations by streamlining various departments such as HR (employee management, recruitment), sales, accounting, procurement, inventory management, planning, helpdesk, marketing, projects and timesheets, and documents with support for e-signatures. Moreover, there were challenges with some administrative tasks, as the departments are distributed with employees residing in different countries and thus data exchange between them was difficult.
Additionally, the company had thousands of documents kept in cloud space. However, their data processing and integration required extreme visibility and accuracy in order to ensure real-time visibility into key business metrics and performance indicators.
The Technology Behind the Solution
ODoo (ex-OpenERP), is a comprehensive suite of business applications that provides an integrated and modular solution for managing various aspects of a company's operations. It is an open-source ERP software that offers a wide range of functionalities to streamline and automate business processes. Today, ODoo holds a prominent position in the mid-price segment, making it an ideal choice for medium and small businesses. The platform offers a wide range of business functionalities and a user-friendly interface, setting it apart from other ERP systems.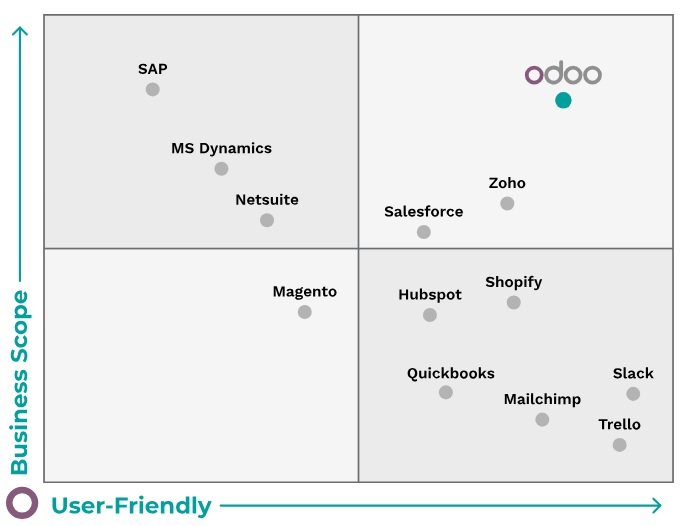 The Outcome
First Line Software successfully helped the client implement Odoo ERP, creating a centralized system for four departments.
The ERP system was customized and configured for sales, accounting, projects, employees, and time reporting. Existing data from legacy systems and spreadsheets were migrated to Odoo using data mapping and cleansing techniques to ensure data integrity and consistency. Thirty employees across four departments received comprehensive training on how to use Odoo effectively, including training sessions, documentation, and ongoing support.
The new system will support integrations with popular project management tools like Trello, Asana, and Jira, integrate with communication tools like Slack, and other cloud-based collaboration tools such as Google Drive. These integrations make it possible to leverage advanced project planning, task management, and team collaboration features. It also serves as a central hub for teams to access information, share files, coordinate tasks, and engage in discussions. The workspaces include features like project management, document sharing, task tracking visibility, and status of the project. The strength of an implemented ERP system lies in its ability to consolidate various factors for a specific project, including timing, the manager's role, the execution of sales orders, and the ability to track invoicing. These operations ensure complete transparency throughout the project. The client gets the ability to track any employee activity for each project and date and optimize the project's expenses.
Beyond the successful Odoo integration, we have additional sprint cycles planned with our client to help them continue to maximize their investment into an ERP system. Our future plans include setting up the marketing module within Odoo for running email campaigns and promotions. This will give our client the ability to use Odoo, rather than Hubspot, to create targeted campaigns and track the effectiveness of their marketing efforts.