Often we almost unite such terms as CMS and WCM (Web Content Management). Not without a reason. Systems that help us to manage a website probably are the most common genre of content management systems. But there is a lot more.
Let's look closer at what defines WCM systems and how they differ from some other big segments of this market.
Web Content Management Systems
Designed to manage one or more websites
Priority: Content creation and editing / Publishing tools
Minor on workflow and governance
One of the most common open-source genre
Content Management Systems vs Digital Experience Platforms
CMS's and DXP's can be concerned as part of WCM systems.
Content management systems are mostly focused on content creation and publishing. Basically, they give us the opportunity to visually compose web pages by dragging elements around the page and plan and manage content publishing. 
Digital Experience Platforms are newer systems that changed the focus from creating content to consumption of it. They give us more opportunities to track people's experiences with our content. Now we can see how our consumers interact with what we offer and try to optimize their paths.
Headless
One more thing we should add here is headless. Headless CMS is also a subgenre of CMS systems that doesn't have a delivery component. Such systems allow you to create and manage content, but how it will be published stays on your side. Still, many companies use headless systems to manage their websites so we can add it here.
Examples
You can find a variety of WCM systems on the market depending on the size of your business and the estimated budget: Optimizely, Sitecore, Kentico, Bloomreach, Drupal, WordPress.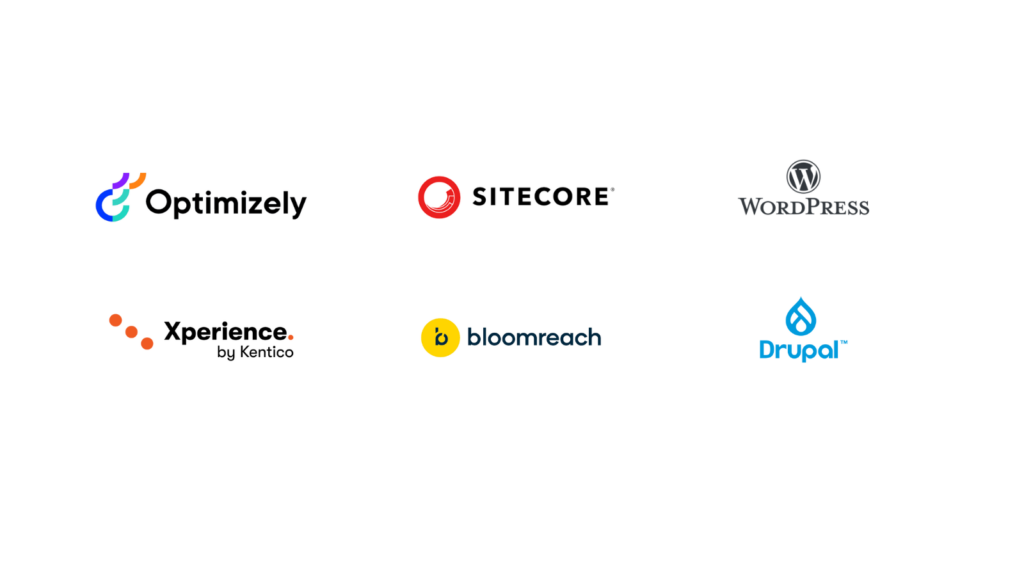 First Line Software is an Optimizely DXP certified premium partner. Our trained engineering teams have extensive experience working in all of these systems and understand the strengths and weaknesses of each and how they will best fit your needs.
Enterprise Content Management System (ECM)
These systems are used by companies to manage internal content within the company that is not intended for public consumption.
Designed to manage company internal content (regular reports for example)
Priority: Governance and management tools
Minor on creation and editing
Occasionally used to manage web assets (poorly)
Examples
Documentum, Nuxeo, SharePoint, Alfresco

Digital Asset Management Systems (DAM)
Designed to manage and transform rich media assets (images and video).
Priority: media manipulation, search and metadata
More like "systems of storage" than "systems of publication"
Minor on output and publication
Often sold as add-ons to ECM or WCM systems
Examples
Adobe Experience Manager, Widen, MediaBeacon, Imagevault

WCM, ECM, and DAM are the big 3. But not the only ones.
And even more…
Learning Management Systems (LMS) – used by universities or companies training departments to manage courses.
Component Content Management Systems (CCMS) – used to create technical documentation or user guides.
Product Information Management Systems (PIM) – systems for ecommerce businesses used to manage different variations of products.
Collection Management Systems – for museums or art galleries
And many other industry or vertical specific solutions.
Why do we use content management systems?
So why do we need content management systems? Here are some reasons to consider:
1. Increase editorial efficiency
The alternative of using WCM systems is manually building websites out of HTML and files. That is just complicated and takes much more effort and time.
The idea of WCM systems is to allow your editors to work with content much more easily, faster and in a guided interface.
2. Allow for content automation
Often we need to automate the display of content. For example, we need to see all the articles on a particular topic. With a content management system, you can do it in a minute. Otherwise you'd have to maintain that list manually.
3. Reduce content risk
This is about out of date content and control of who can change important parts of your content.
For example if you're a financial organization you may have to prove what was on your website on a given date. With a CMS you can go back in time to all of your content versions and get it.
In addition you can give permissions and create a workflow that can't be changed without approval to control who is working with the content you produce.
4. Allows content reuse
As the content management and its delivery are considered as separate processes in CMS systems, they allow you to reuse your content in multiple places with multiple different presentations.
Downsides of Content Management Systems
But is everything so sweet? Well, there are a few drawbacks to be aware of.
1. Increased complication
Today's CMS systems are quite complicated. They require significant training and maintenance.
2. Reduced flexibility
With all the comfort you get, we should understand that CMS systems put rules on how you're gonna work with your content. But sometimes it can prevent you from making mistakes (forgetting to add titles for example).
3. Increased expenses
Initial and ongoing expenses have to be accounted for when considering a CMS.
Upsides and value proposition of Content Management Systems worth all these downsides, but you need to be clear that they exist.
Conclusion
As they say in today's highly competitive world – "Сontent is the king". Proper and effective content management is a critical part for the success of your business. Using the right tools for this work will greatly increase your productivity and as a result – income and growth.
Talk to us today!
First Line Software has 40+ certified WCM developers and architects in our team. We have successfully delivered over 350 projects on integrating and extending standard functionality of WCM systems. And we are proud to be named certified Optimizely Premium Partner.
If you're considering Content Management System integration or want to go beyond standard functionality of your current solutions – talk to us today. First consultation and estimate is free of charge.
The article is based on the session "In The Beginning": The fundamentals of content management" by Deane Barker, Global Director of Content Management Strategy (Optimizely).