It's that time of year – when Clutch recognizes the 1000 Best B2B Service Providers in its Exclusive 2019 Clutch 1000 List. We're pleased to announce First Line Software's recognition as a top custom software development agency. The 2019 Clutch 1000 List features companies that rank within the top 1% of all companies on Clutch and is their most exclusive award.
As a premier provider of software engineering, software enablement, and digital transformation, First Line continuously strives to deliver world-class solutions on time and on budget. Based in the US, our staff of over 600 technical experts takes pride in producing top-quality results for our global clients.
The Clutch 1000 is a comprehensive list of the top B2B service providers, ranked and sorted based on Clutch's verified data. First Line is one out of 147 custom software development companies included on the list.
Clutch is a B2B market research firm that applies a unique rating methodology to compare companies across industries. They use quantitative and qualitative criteria to assess work experience and market presence, including client feedback, work quality, and services offered.
We'd like to extend many thanks to our clients for taking part in interviews to rank our impact. As a result of that feedback, we received an amazing 4.8 out of 5-stars! Here's one example of a recent review: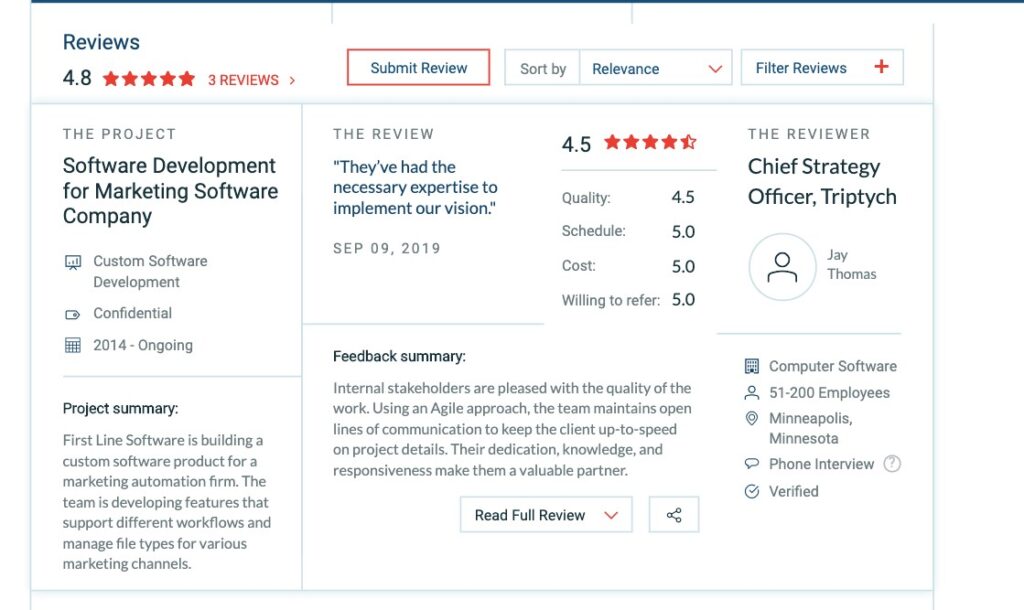 Other rankings include one from The Manifest, a site that helps increase visibility for top-performing companies through specific business data they collect. They included First Line Software on their shortlist of top development companies. Similarly, a recent listing by Visual Objects recognized First Line Software as a leading custom software development firm.
If you'd like to learn more about First Line Software's expertise, contact us today to tell us about your upcoming project and development requirements.
Related news: